St. Pius X Church was founded with a mission to create a Catholic community where families could worship, live and educate their children in the same neighborhood. That vision, championed by our first pastor, Fr. Gerald Phee, still resonates more than 60 years later.
"It all started in a barn, anyway."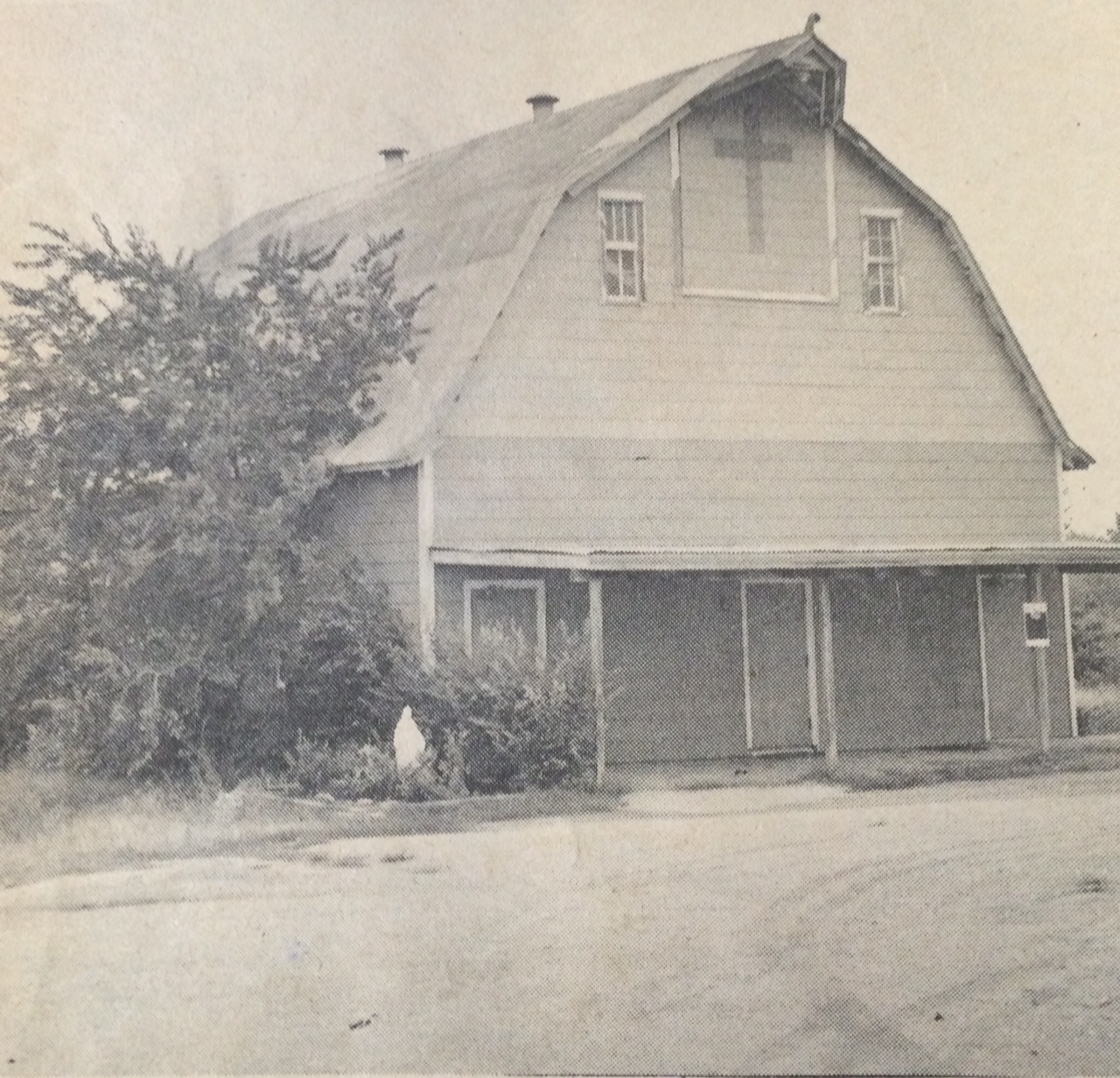 St. Pius X Church began at the direction of Bishop McGuiness of Oklahoma City and Tulsa. In 1954, ten acres of land were purchased from the Moeller Estate by the parishes of Church of the Madelene and Saints Peter and Paul for $15,000 to build a new parish.
When the parish was canonically established on June 6, 1955 with St. Pius X as its patron, there was not a building in which to worship. The Moeller family generously donated use of a cow barn on the property to be converted for use as a temporary Church. Through the hard work of parishioners and Fr. Phee, the first Mass was offered on July 10, 1955. One parishioner was quoted as saying, "it all started in a barn, anyway."
"If there's a job to be done, do it." –Fr. Gerald Phee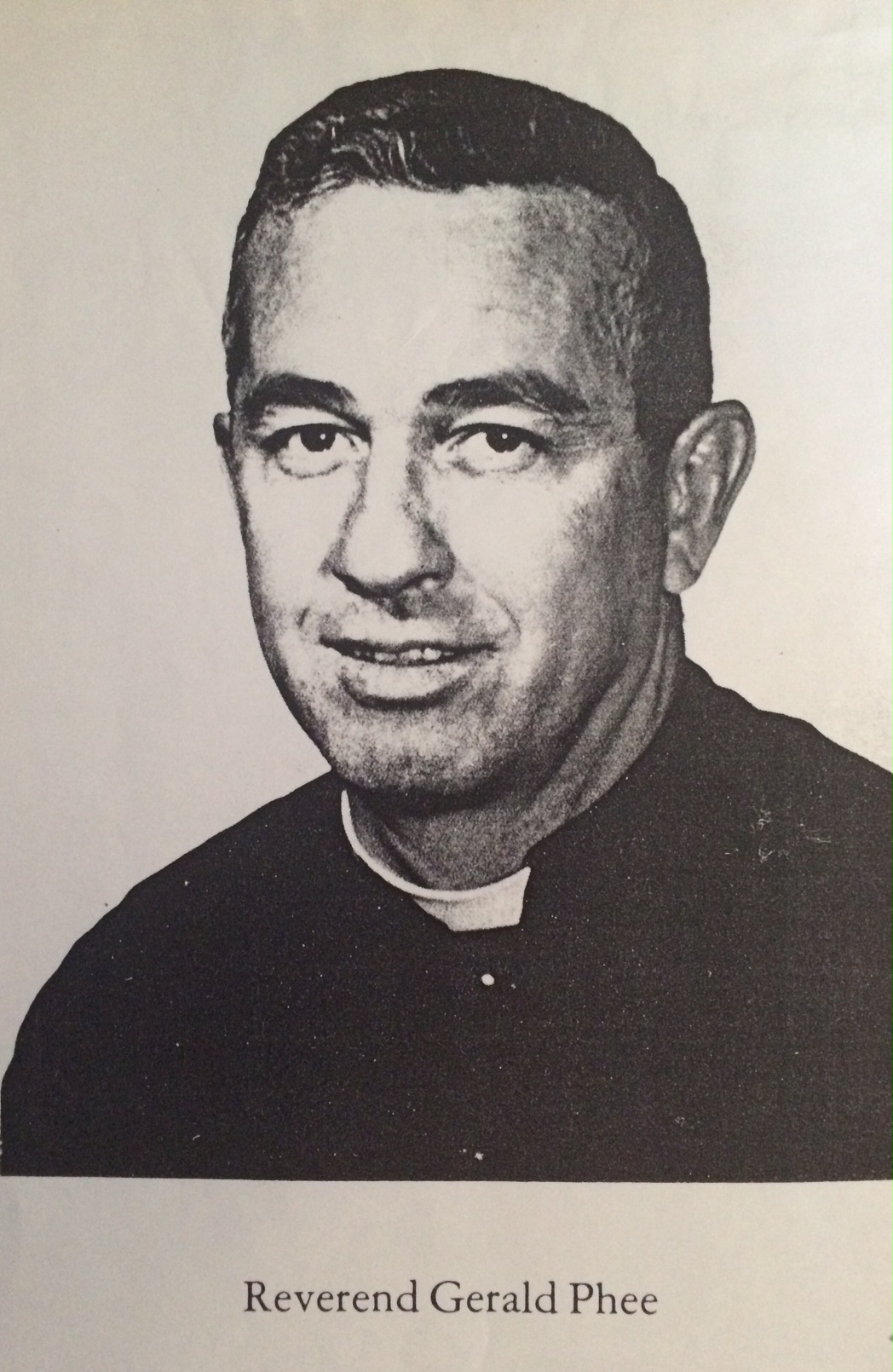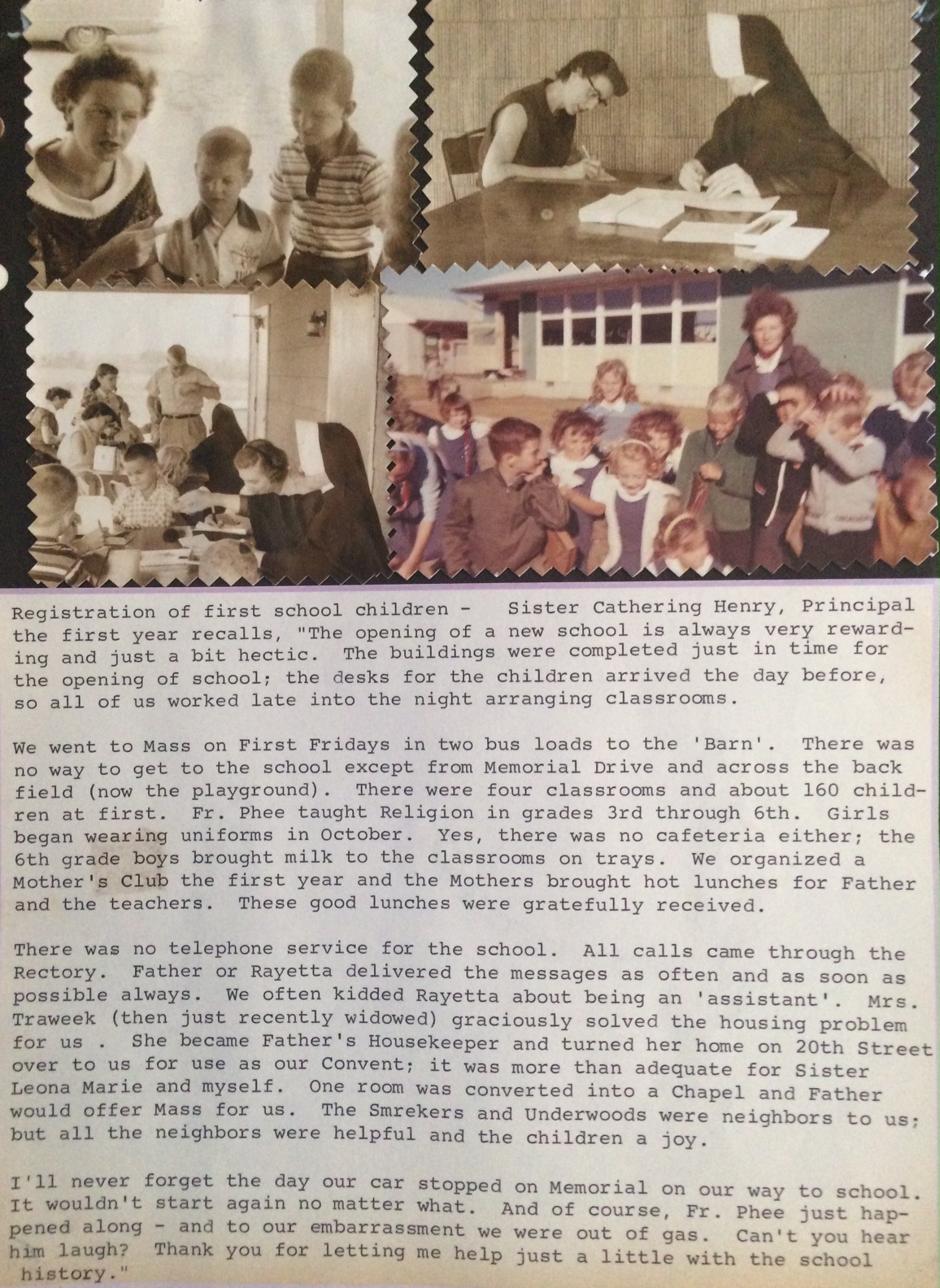 Catholic education was a
priority from the beginning. With the help of 60 parishioners, most of whom were lawyers, salesmen, engineers and representatives of other than building professions, Fr. Phee spearheaded a program to construct two pre-fabricated buildings for St. Pius X School. These buildings were procured and shipped on the railroad from Fort Chaffee in Fort Smith, Ark. to the tracks near 15th and Sheridan. The savings this effort yielded provided funds to purchase outright a third building. In 1957, the first class started at St. Pius X. Sisters of the Divine Providence staffed the school and blessed the parish with their presence until the mid 1980's.
At the same time, Fr. Phee recruited a builder to construct affordable homes that would accommodate large families on the land adjacent to the church, establishing the "Moeller Heights" neighborhood. These 3, 4 and 6 bedroom houses with sidewalks so children could ride bikes and roller skate safely are still home to many St. Pius X families.
By the early 1960's, priests were saying 10 Sunday Masses to accommodate the growing parish and neighborhood. One parishioner remembers, "If you were late and couldn't get in, you just had to wait an hour for the next Mass." In 1963, 600 Catholic families led by Fr. Phee broke ground on a new, permanent church that would hold at least 800 for Sunday Mass. The projected cost was $220,000.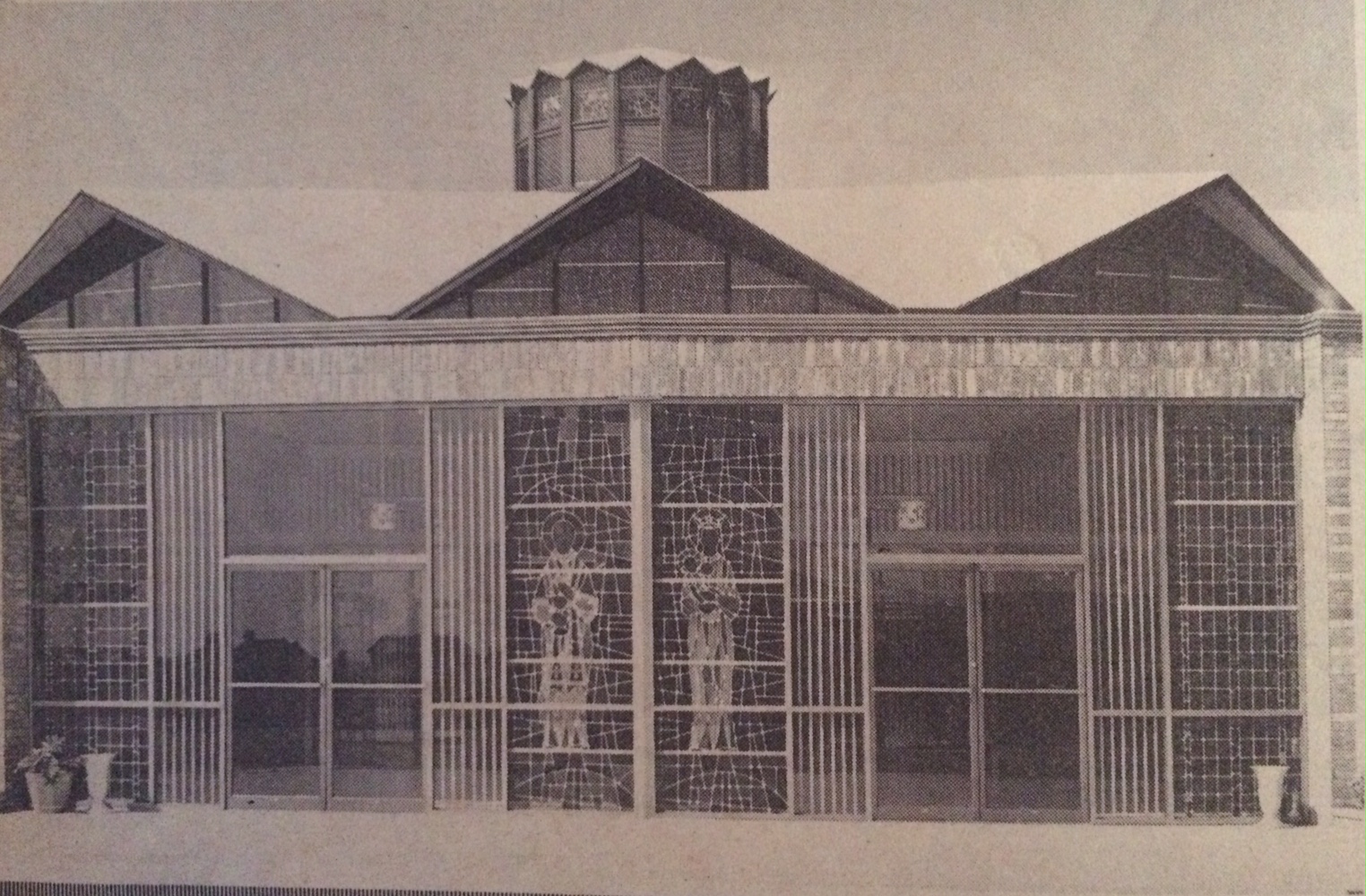 The church itself was designed "in the round" with the altar in the center so no parishioner is more than 50 feet from it. The baptismal font was located immediately within the entrance so parishioners would be reminded on entering and leaving that baptism is the means of entrance to the Church. The new church was dedicated by Bishop Victor Reed on August 6, 1964 in what was described as "a liturgy as modern as the building" due to the fact much of it was in English rather than traditional Latin.
In June 1967, Fr. Phee was transferred and Fr. William Swift became the second pastor of St. Pius X, then the largest Catholic parish in Oklahoma. Fr. Harry Bartnik arrived in June 1957. Through the years many associate pastors have served at St. Pius; always at least one per year and often two.
Thanks to stewardship and good financial planning, the parish celebrated the "burning of the mortgage" on October 8, 1978. The next major building project was the Activity Center with a full court gym, which was completed in July 1982.
In April 1983, Fr. Dennis Dorney returned as the fourth pastor of St. Pius X. He had been an associate pastor in the 1970s. Father-later Monsignor-Dorney combined his service as pastor with diocesan responsibilities as Chancellor and Vicar General for both Bishops Beltran and Slattery. For Monsignor Dorney, Catholic education was an absolute priority, and St. Pius X School flourished. He instituted just salaries and retirement for teachers and parish staff, which had become more important as lay teachers and staff predominated. A state-of-the-art Math and Computer lab was completed in 1995, pre-school was added and an Endowment Fund was established.
The parish featured plays for a number of years, with parishioners themselves building the sets, starring in the roles and directing all the action. St. Pius X parishioner, school alumnus and future pastor, Fr. Matt Gerlach, was ordained to the priesthood on May 24, 1996 and celebrated his first Mass at St. Pius X Church.
After Monsignor Dorney was transferred to the Church of St. Mary, Fr. Tom Hildebrand returned to St. Pius X after serving as associate from 1978-81. Fr. Tom also saw the school as a priority. With Holly Goodwin as principal, St. Pius X School was nationally honored as a Blue Ribbon School of Excellence in 1996. Parents continued the tradition of "sweat equity" and built a modern playground still in use today.
Father Tom suffered a fatal heart attack in the rectory on November 3, 2004. His death stunned the St. Pius X community and led to an extended time of grief and mourning. Fr. Tom often told friends how happy he was to be the pastor at St. Pius X, and that he wanted to serve here until he died.
Fr. Mike Knipe became the sixth pastor of St. Pius X in 2005. While a convert to Catholicism, he grew up in the neighborhood and celebrated his first Mass at St. Pius X Church years before being assigned pastor. The same year Fr. Mike came, the parish celebrated it's 50th birthday with a year-long celebration and added a Sunday Mass in Spanish.
In June 2011, Fr. Gary Kastl was briefly named pastor before Fr. Matt Gerlach was named eighth pastor of St. Pius X in November 2011. Working with Principal Lisa Bell, Fr. Matt soon realized the "temporary" school buildings erected in the 1950's would not last much longer. A capital campaign to raise $6.2 million dollars for a new school was announced in 2012. Once again, the parish responded by funding a majority of the project through multi-year pledges. Proceeds of events from the annual parish garage sale to the school auction were earmarked for the Capital Campaign.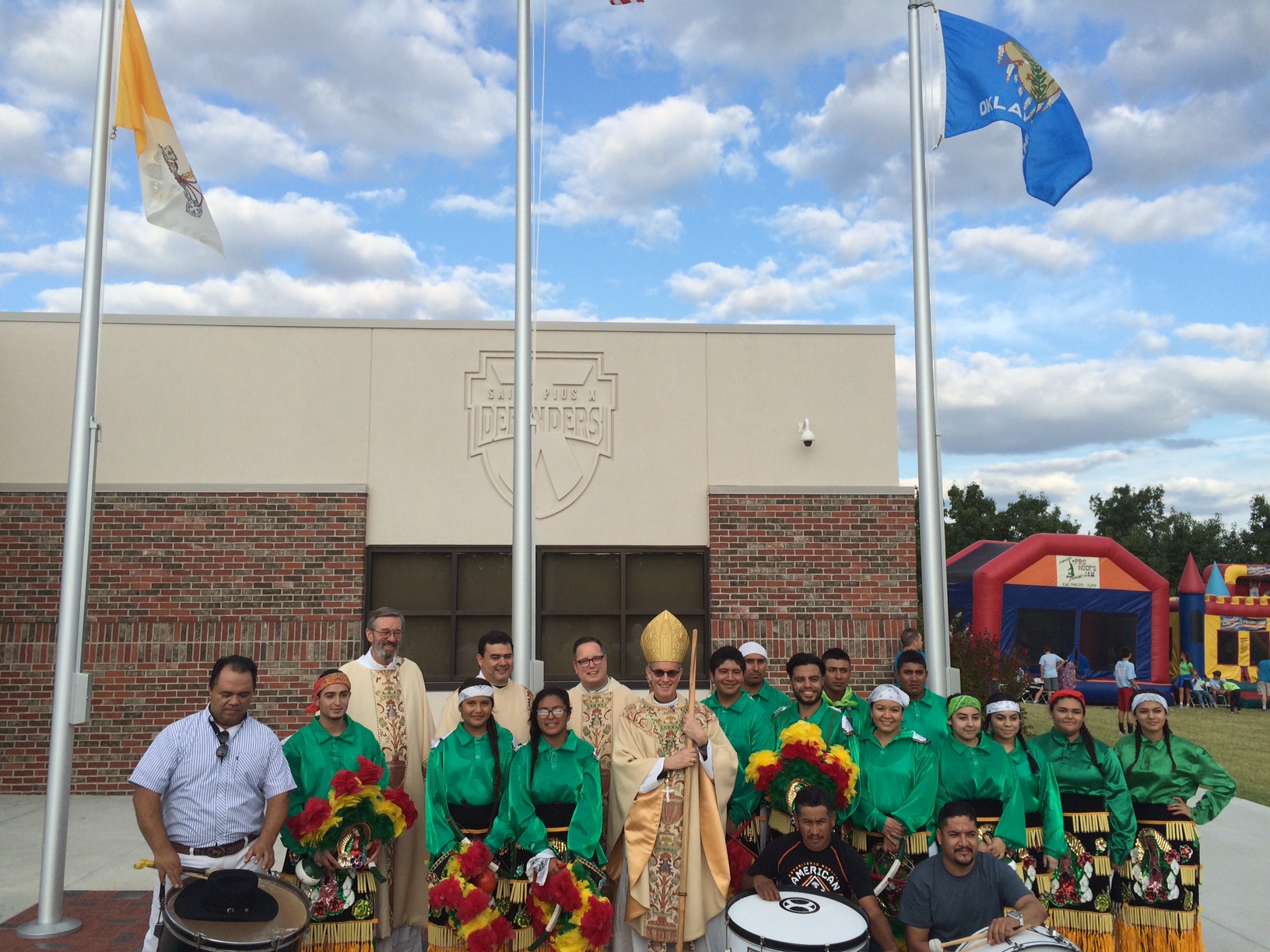 By summer of 2015, a new Early Education and Elementary building was constructed, including a FEMA-approved storm shelter and Motor Skills room. A year later construction was complete on a new Middle School building including administrative offices, music room and a second FEMA-approved storm shelter. On August 11, 2016, for the first time in the school's history, all students in Pre-K 3-year old through 8th grades started the school year under one roof. Recently named Bishop David Koderla dedicated the building that month during the parish's annual Feast Day celebration.
In January 2017, Fr. Leo Medina was named associate pastor at St. Pius X. A native of Mexico, Fr. Leo helps Fr. Matt minister to our parish while also serving our growing Hispanic community.
Over the years, St. Pius X Church has itself given birth to two more parishes from its boundaries—the Church of the Resurrection and St. Thomas More. Many contemporary teachers and students of St. Pius X School are children or grandchildren of our early parishioners. The parents who built the buildings are now grandparents seated next to their grandchildren at the Friday All School Masses. The parish continues its mission to provide a welcome community to families hoping to raise their children in the Catholic faith.